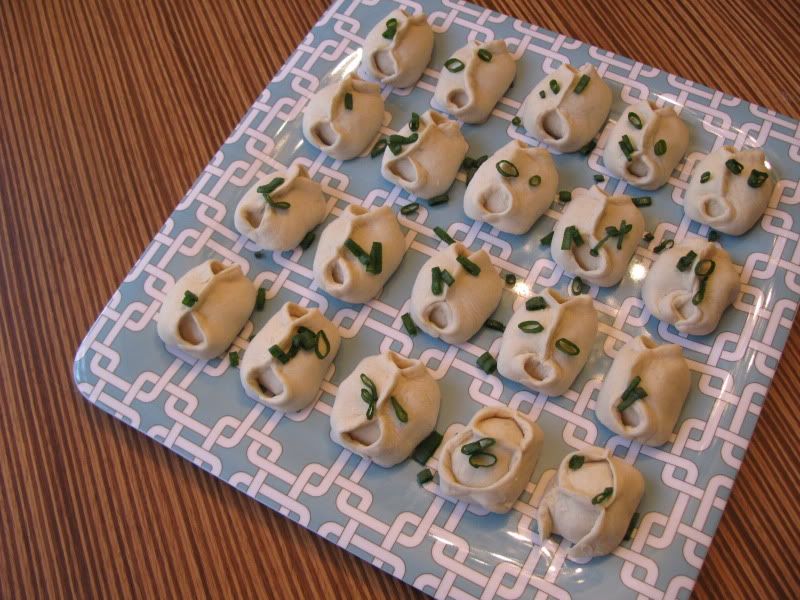 for the filling:
1/3lb bok choy chopped very fine
1/4 tsp salt
1lb ground pork
1/2 tsp sugar
2 tbsp soy sauce
2 tbsp shaoxing wine (chinese cooking wine)
1 tsp sesame oil
1/8 tsp white pepper
2-3 stalks green onions chopped very fine
2 tsp of minced ginger
1 tbsp of oyster sauce
2 tbsp of water or chicken stock
1 tsp of cornstarch
for the wrapper (bun):
4 canisters of refrigerated biscuit dough (comes in a can, typically 10 count)
for cooking:
2-3 tbsp oil
1 1/2 cups water
rice vinegar
one stalk green onion with green tips chopped
- mix all filling ingredients together and blend with fingers until the mixture is very smooth with no unseasoned chunks of meat (about 3-4 minutes). cover with plastic wrap and let marinate in fridge for half hour.
- meanwhile, roll each piece of biscuit dough into 4" circles with the edges thinner than the center.
- place about a tablespoon of filling in center of rolled biscuit and pinch edges together to seal. make sure edges are pinched tight, to avoid juices from escaping during cooking.
- heat oil over medium high heat in flat bottom pan, then add buns making sure bottom of each bun is coated with oil.
- cook until buns are a medium gold color on bottom, then add water down sides of pan. do not pour water on the buns as it will ruin the texture. add a few drops of rice vinegar and sprinkle green onions on top. immediately cover and let cook until all the water is evaporated, approximately 15-20 minutes.
- buns are done when dough springs back from touch and bottom has crisped up substantially and is a dark brown.
- serve with chianking vinegar (chinese dark vinegar) with minced ginger.